Main Index
Lakes
Rivers
Bait Shops
Sporting Goods
Lodges
Guides
Outfitters
Message Board
News Letter
Photo Gallery
Articles
Sponsors
Links
N.W. Ont. Stocked Lakes
Squeers Lake 2013
Trophy Walleye
Trophy Smallmouth Bass
Trophy Lake Trout
Trophy Steelhead
Trophy Brook Trout

When heading out on the rivers that have Power generating dams on them, these links may be helpful to you. They can indicate water flows and levels.
Kaministiqua River
Nipigon River




Walleye Fishing
Walleye fishing in and around Thunder Bay Ontario can produce some trophy fish. Catching a few fish for a fresh shore lunch seems to be no problem as many lakes abound with this popular species. A record tournament walleye was caught in the heart of Thunder bay!
Smallmouth Bass
The Smallmouth Bass is a heavy favourite species of fish to angle in Thunder Bay Ontario. There are many tournaments in this area which attest to the popularity of this species!
Lake Trout
Lake Trout grow big in the deep clear waters of the Canadian Shield in and around Thunder Bay Ontario. You can angle these deep water scrappers right off the front steps of Thunder Bay in Lake Superior or visit one of the many inland lakes that hold these giants of the deep.
Brook Trout
There are many natural and stocked waters for Brook Trout in the Thunder Bay Ontario region. In fact, the world record Brook Trout was caught in the Nipigon River an hour east of Thunder Bay. Most rivers and creeks flowing into Lake Superior hold these brightly coloured fish.
I met Trevor about 5 years ago. He was and still is an aggressive force on the tournament circuits in Northwestern Ontario. He is well known as a bass angler and has just recently has added his walleye talents to tournaments. You can read more about Trevor here.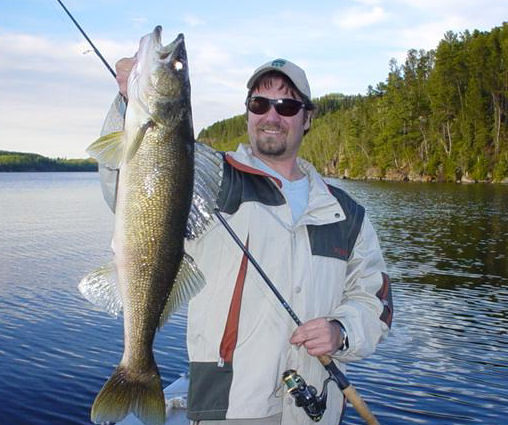 For several years, Tom has been a fixture on the regional tournament scene. Starting out small with only the Atikokan Bass Classic, he as since branched out to include about 6 bass and walleye tournaments per season. Several tournament wins and placements 'in the money' have fueled his passion, as well as the competition, good times and camaraderie.
....Read the Interview
Thunder Bay Fishing