[randomtext]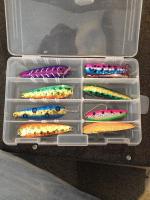 I'm super new to salmon fishing, i just got into it last year and have yet to catch one with probably close to 30hrs of trolling under my belt.
I've fished mostly past the break wall and around the welcome islands until today; out of popular suggestion from friends&family i went out to Black Bay this morning.. left at 5am, was dock at 6:30am.
Was on the water for over 6hrs and had no luck.
I currently only have one downrigger; Cannon Digi-Troll 5 & running a stacker line so i can have 2 lines in at once. I plan on getting a second rigger in the future; assuming i can make this fishing hobby something more than being skunked! lol
What i've tried:
-Varying trolling speed from 1mph to 4mph. Average speed i was trying was round 2.2-3.0mph. This is logged on GPS.
-An assortment of spoon colors (maybe i should expand my collection beyond spoons? suggestions?) I will attach a picture of all the "salmon spoons" i have, today i tried them all.
-Depth: I've had myself in 30-70ft of water. Keeping the downrigger around 20-45ft (depending on bottom depth)
-Today fish were constantly marked everywhere. The sonar reading is 200/83khz, although when i changed it to 200khz (20deg cone aka. 1/3 depth cone) i was still marking fish so they were deff around me. I've attached a picture of the graph.
Is there anywhere specific i should go in Black Bay? Attached is my route from today. Suggestions, Hints, and ideas will be greatly appreciated! So new to this type of fishing and it is defiantly an art (or im missing something!)
Thanks!!
Chris
Read more here: Recent Posts